---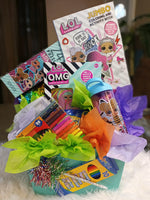 Contents in this Arrangement:
(1) - LOL Coloring Book
(1) - Set of LOL Mix and match 5 runway fashion dolls (board dolls)
(1) - 24 Piece LOL Puzzle
(1) - LOL sports drinking bottle
(1) - 20 piece marker set
(1) - 10 piece colored pencil set
(1) - Decorated Pen
(1) - Small Sequin Pillow
(1) - Small Pink tote bag
(1) - Bin with Décor
(1) - 6 pack honey maid crackers
(2) - Capri Sun
Available for PICK UP ONLY.                     
The creation of this Gift arrangement is arranged and organized by hand, it's unique, and is customized according to your order. Call to specifically customize, otherwise, the contents in this arrangement will vary and be selected according to product availability. Because it's arranged by hand the structure and appearance vary. Each arrangement is unique to it's design and structure do to the items used to create it.